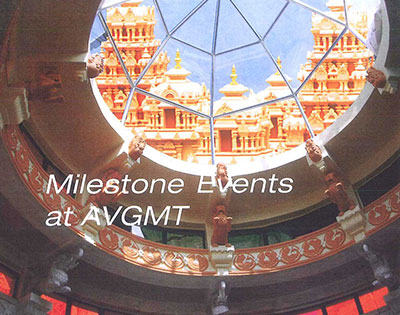 People tend to remember best those events which impact their lives deeply. It may come as no surprise then many people in Singapore will remember the events listed in this article not because of their scale but because they were unique and broke new ground in Hindu temple worship. One might ask where exactly these exceptional events took place. The answer lies no further than at Arulmigu Velmurugan Gananamuneeswarar temple-both at the temporary site in Serangoon Road and at its new site Sengkang.
We start with Lakshrchanai, held in August 2001 and 2003, at AVGMT's Serangoon Road site. 100,000 religious verses were continuously recited in Tamil to sanctify the temple's deities. It was a joyous occasion for many devotees as it was one of the rare moments when the religious experience was made more meaningful. Holy scriptures, usually in the ancient language of Sanskrit, were recited in Tamil, a language unlike Sanskrit familiar to most devotees.
Another event making the list of special occasions would be Divine lights Procession - which celebrates the transfer of light - signifying the offer of help to others. The transfer of light also denotes the continuous spread of religious teachings to purify the mind, to offer relieve from suffering and attain enlightenment. Since 2002, AVGMT, which has made promoting religious harmony in Singapore a priority, has been jointly organising the annual procession with the Singapore Buddhist Lodge and Leong San Temple during Deepavali. The Divine Lights Procession represents harmony amongst they walk in unison bearing a light, the symbol of hope and World Peace. This one of a kind procession has the distinction of being endorsed as a "community bonding" project by the Hindu Endowments Board.
While most Hindu religious practices are solely the affairs of priests, AVGMT has taken the lead to involve regular folk in many of these sacred practices. The annual Santhana Kuda Abhishegam is one such prayer where devotees themselves pour rosewater and offer sandalwood paste offerings to lord Velmurugan - a prayer usually held in conjunction with national Day Celebrations. Likewise, during Paal Kuda Abishegam Prayers conducted to usher in the New Year and Thaipusam festival, deities are bathed in milk by devotees themselves, a tradition usually reserved for priests. AVGMT's management believes that devotees must get personally to their favoured places of worship. It is this principle understanding that has paved the way for greater devotee participation in many of the temple's ceremonial prayers.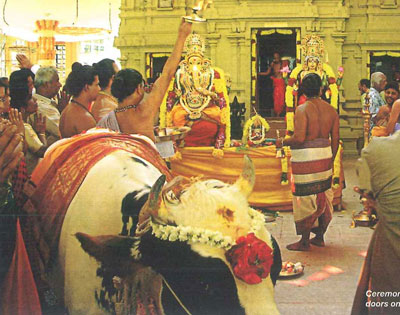 1008 Shangustaapanam is one religious ceremony deeply etched in the minds of AVGMTs devotees and likely to be fondly remembered fo a long time to come. In June 2004, one thousand and eight conch shells were ceremoniously placed in the bases on the main sanctums before any sculptural works at the Sengkang site Commences. This remarkable feat to embed conches for prosperity is the first of its kind in South East Asia. Conch shells have a deep symbolic and religious tradition in Hinduism. To this very day, Hindus use the conch as a part of their religious practices, blowing it during worship at specific pints, accompanied by ceremonial bells.
Another AVGMT event that has brought Hindu temple worship in Singapore to new heights is Brahmaranthira Sthaapanam - and occasion where precious gems and metals were placed at the top of the new temple's dome according to ancient Hindu temple architecture, a temple's main dome is referred to as the brain and like the natural closing of a new born child's crown, the closing of the topmost part of the main dome is important to retain a temple's inner - world magnetism. The significance of the ceremony is deep. The Gems and metals are essential to change the temple with magnetic forces, these forces enhance the powers of the 'house of Gods'.
As part of the Brahmaranthira Staapanam December 2005 event, all devotees were invited to place nine varieties of precious stones and a five sacred at the top of the temple's new towering 80 feet dome. Collective prayers while placing of precious items are believed to be very powerful and said to bring diving blessings to the families, of those who participated in Brahmaranthira Sthaapanam, regarded as a most auspicious and significant ceremony in Hindu temple construction.
With the completion of the new AVGMT temple in Sengkang, we can expect to see more of such extraordinary Hindu festivals and ceremonies. It is comforting to know that temple worship in the new millennium is becoming more engaging and meaningful to devotees, a conviction strongly held by AVGMT's trustees and management.